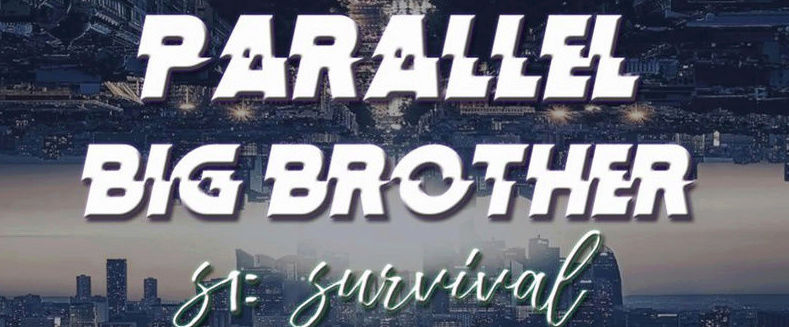 Episode #8 - Quiet Before The Storm
In this parallel game of Big Brother, 22 strangers were locked up and propelled into a fantasy world like no other. While trying to survive the elements of this house and the game played within its walls, the 22 players will have to compete in grueling challenges, find trust and know when to betray. It's a ride you don't want to miss.Tonight on Parallel Big Brother, watch to see the aftermath of the triple eviction and house the house recovers after a controversial player moves up to the HOH room.
The house had just lost 3 players in one day, it was time to dial things back a bit. Bill and Jenn were chilling in the backyard playing pool.
Jala walks in the Diary Room

I am in so many alliances right now I am in the savage 7, the messy bunch and the Queenies but I am not completely loyal to any of them and is trying to stay lowkey and not win comps for a while until I need to.
Bill:
"So how many alliances do you think Millie's in?"
Jenn:
"She's in a few. She was with Sara. She's probably good with Luke. She feels safe that's why she wasn't here for the game I would assume"
Bill:
"Yep. Exactly what I was thinking too. She's probably part of team asshole too lol"
Jenn:
"I think Jala is with them too so we have to be careful what we say in the other chat. She probably is lol what was that even about"
Bill:
"I'm assuming that's their alliance name? Clever haha"
Jenn:
"Haha that's hilarious

we need to ensure you stay this week."
It was already time for the Head of Household challenge.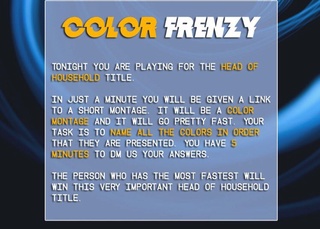 Luke was victorious in winning the challenge and the title.
Jenn:
"Congrats Luke!"
Syd:
"Congrats!

"
Damola:
"Congratulations Luke "
Taylor:
"Congrats Luke!"
Luke:
"Yayy!! Thanks!
Kathy:
"I kept doing that when I didn't have to....OMG. Congrats Luke. You have amazing eyes!"
Iman:
"I fully thought the blue was purple for some reason

"
Luke:
"

I thot the yellow was lime green and then I was like lmao it's not that deep just say yellow"
Jenn:
"The yellow did look like lime green to me too"
Kathy:
"I can certainly see why BB asked the question about seizures. If you were prone to one that would certain do the trick. Wow.,"
Luke:
"

"
Jo:
"Wow I'm late to the party lol but congrats Luke!"
Luke walks in the Diary Room

Ik I'm making myself a target but honestly there are only 4 ppl in this house I'm not in kahoots with so they r the targets. If the go, I should be safe but if they ever win something and put me up, I could b in trouble bc of how big of a threat I am I kinda won "HOH" of the very first comp I won the buyback comp I won Veto in the tripple And now HOH That's four and I think the most anybody has is 2? I want the wild cards to show their cards bc I've had to work so hard that I always talk to the HOH even if I don't know them whereas they don't! Why do they feel so safe!?
The first one to go up to Luke's HOH room was his little buddy Syd.
Luke:
"Yo who should we plan on nominating. Trey is just sketching me out rn so I just decided to talk to u bc I can trust u"
Syd:
"I have no idea who to nominate I'm stressing tf out"
Luke:
"Like the only issue is that that's only 2 ppl and if one comes off the other might stay"
Syd asked if she could use his show. While she was in there, Luke went downstairs to find Millie and Jala for some actual guidance.
Millie:
"u won it it!!!"
Jala:
"Yassss Luke!!! King"
Luke:
"lmao thx guysss"
Luke was ready to make his nominations. He nominated Jo and Bill.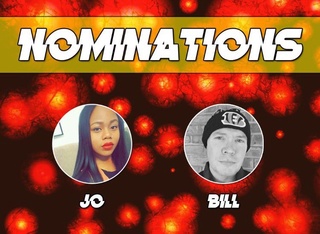 Bill:
"No hard feelings Luke. Appreciate the opportunity to play for veto"
Luke:
"No problem! Play for it and win it!"
Jo:
"Make sense about the nom all good Luke"
Luke:
"lol it's all good it's only game and I'd hate to see ppl playing the game Leave without a chance of saving themselves!"
Iman was happy Luke didn't nominate her so she went to say thank you.
Iman:
"Hey just wanted to check in and say thanks for not nominating me"
Luke:
"Lol no pro honestly I have no idea where you stand tho like, I honestly just had a better feeling from you and you seemed nicer whereas those two weren't mean they just seemed much more closed off"
Iman:
"You seem really nice too! Honestly, this is my first game so I've been kinda scared to talk game with people I kinda talked to Caleb then he ended up being exposed"
Luke:
"Lol he was wildin
Did he get exposed after I left?"
Iman:
"I think that was around the time you left where everyone knew he had been running around making deals. Honestly I just want someone who will have my back yknow"
Luke:
"Lmao yeah he was working with literally everybody. And if u want to like, I'm open to pretty much anything and if u want we could basically use this as a chance to start working together?
Plus if the Veto is used I could just prove I'm trustworthy by not nominating you"
Iman:
"Yeah working together would be cool

Thanks that would be great and when I *hopefully* win HoH tmmrw, I'll keep you off the block too. I wish i was playing the veto! Havent got a chance other than the triple"
Luke:
"LIT. And lol when I left I was pissed mostly bc I hadn't gotten to compete much!!"
Iman:
"At least you're back now! I honestly didn't expect all of these comps to be finished so quickly though. Literally 2min from posting and they usually have a winner"
Luke walks in the Diary Room

I can already say tho that I'm not looking forward to not being able to compete in the HOH tomorrow. I love playing in the comps and winning them is even more fun but like, not being able to is gonna be hard. If I can't win what if the other side wins? And if there is really a twist like I think there will be what will I be and what will happen? At least I'm safe this week but if I'm up next week I need to get the POV. Basically, in my mind, if I am on the block at the time of the eviction at any given point, I will be going home
It was time to pick the veto players. Luke, Bill, Jo, Jala, Damola and Trey would be the 6 players participating in the upcoming challenge.
Luke and the girls were happy Jala was picked for veto.
Millie:
"Opp Jala ur playing veto!"
Luke:
"I feel like we have a good enough hold on the game to stay here. I see us literally going to F3 like, before I didn't really have anybody to totally trust but this three like, I really do trust you guys and I feel like the feeling is mutual"
Millie:
"As long as we win HoH and keep each other safe we should be good. The feeling is forsure mutual lol we're a solid 3"
Luke:
*Tells them he's been making deals with Iman* "Js so it doesn't get back to you guys through the wrong person, I'm doing this but it's really not a thing. I'm just using this bc if he trust me and wins I can get him to not nom us and then one of you guys can just get him out if u win at some point"
Millie:
"that's fine we can probably use him for a vote if we were to need it"
Jala:
"Yes I definitely can see us final 3, I trust you both as well!"
Luke:
"I can try to win it but I don't wanna look like a threat to other ppl"
Jala:
"Which would you prefer gone between the two? And yeah that's true you don't want to seem like a threat"
Luke:
"I think Bill."
Jala:
"Hopefully neither of them win it !"
Millie:
"Yeah you don't want to seem like a threat with comps"
Luke:
"lol I guess I'll have to lay low for a while"
Millie:
"If noms don't stay the same. What are you thinking? lol and yeah u should"
Luke:
"Taylor:/ She hasn't rly talked to me either so idk where she is"
Jala:
"Shes really inactive lol"
Luke:
"ExactlyPlus then hopefully the more active person will be voted out"
Millie:
"lol does she ever play in the comps"
It was now time for the Veto competition.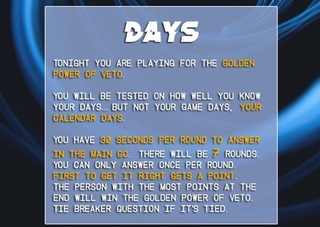 Trey:
"ooo"
Host:
"Houseguests, only the 6 veto players can answer so please stay quiet if you are not playing in the veto. It will be multiple choice answers. You only have to answer by the letter."
Luke:
"Fuck I'm at 1%"
Trey:
"good @ multiple choice"
Host:
"1- How many days until Christmas 2017?
A) 154
B) 200
C) 221"
After a few round, we had a winner.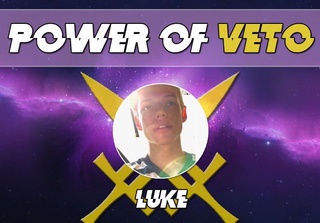 Host:
"Congratulations Luke and good run everyone"
Luke:
"This was literally me just guessing letters



"
Trey:
"that was a fun comp"
Bill:
"Congrats Luke"
Damola:
"Congrats Luke"
Luke:
"Thx guys. Js I've noticed that other than trey, the last three HOH' shave won the POV of their week it's a "curse


"
Trey:
"im the odd one out rip"
Luke:
"

"
After some time to reflect, Luke decided to use the veto on one of his own nominations and save Jo. He replaced her with Taylor.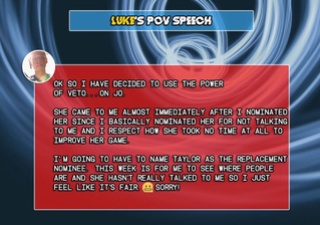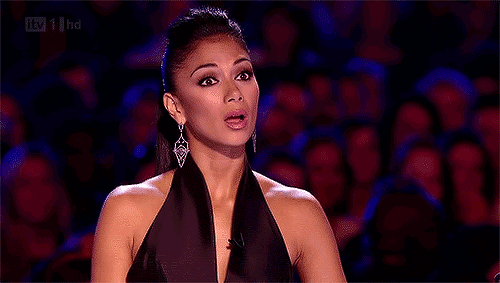 Luke:
"Sorry Taylor!"
Taylor:
"It's okay, Luke! No hard feelings! Sorry I haven't been around for the game much, I've been so busy lately"
Bill and Jenn went outside to chat a little bit.
Jenn:
"Ask jo for her vote"
Bill:
"I just asked her and she said she hasn't heard from anyone"
Jenn:
"Oh well then. I'll work on her. Just letting you know though Luke wants you out. He just messaged me and told me to vote you our"
Bill:
"Tell him to fuck off! lol jk

"
Jenn:
"Hahaha I should! I'm not gonna tell him anything. Of course he'd want you out, Taylor does nothing"
Bill:
"He's just sore cuz I didn't race to talk to him"
Jenn:
"So stupid... lol he wants relationships with everyone and if you don't message him he gets mad. I'm working on Jo. I said at least Bill messaged asking for your vote. And mentioned that Taylor must feel comfortable if she's not doing the same."
Bill:
"Thanks for your help"
Jenn:
"You're welcome. I don't want to come off as pushy so I'm trying to work her into it."
Bill:
"Have a feeling she's gonna do what Luke wants now though"
Jenn:
"Same... she's prob with Luke. Which makes no sense since he nominated her."
Bill:
"But just saved her so..No one's responding to me right now. Got a bad feeling"
Jenn:
"True... she'd be stupid to work with him though. Out of the other people?"
Bill:
"Yeah"
Jenn:
"I hope Millie and Jala voted with us. They didn't respond to me either. Victoria did and was like I missed what's happening lol. Damola didn't even message me back"
Bill:
"I'm not worried about Millie and Jala. At least not for this vote"
Jenn:
"Okay good. We will have to worry about them soon"
Bill:
"Agreed"
Jenn:
"Luke told jo he wants you out. I hope she listens to me and not him"
Luke had to explain his move to Millie and Jala and make sure they vote how he wants.
Luke:
"I put taylor up so that hopefully Bill will for sure be going home. Plzplzplz vote Bill out!"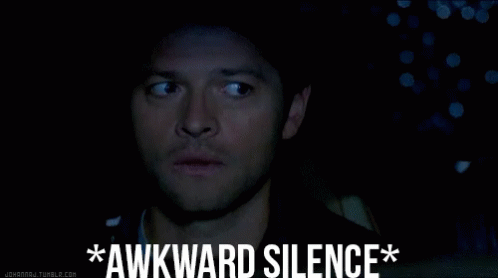 Luke walks in the Diary Room

Ok I replaced Jo with Taylor bc hopefully it will make jo trust me and then lead to Bill's eviction! The only thing is that Jo said she's going after people who are not playing the game... however when she won HOH she nominated Caleb and Kathy, Caleb was playing v hard and Kathy was basically a pawn.... so I don't trust her but I don't think I really have too much to lose:/
The votes were in and Taylor was evicted 8-1.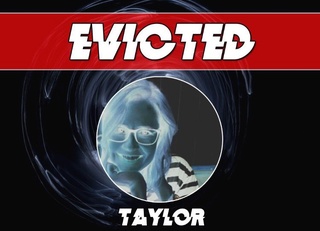 Bill:
"Thank you to everyone who voted to keep me!"
Luke walks in the Diary Room

I still don't think I really have a chance at winning this game but if I manage to survive the next eviction, I think there could be hope!!
Now that the jury had officially started, the stakes were higher and winning was at all cost. Who would be the next HOH and would it set off a few bombs in the Parallel Big Brother house? Find out next time on on Parallel Biggggggg Brotherrrrrrr
Taylor's Aftershow Interview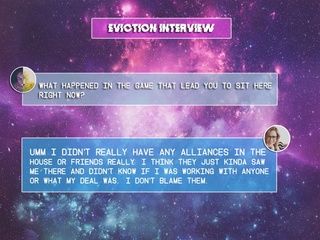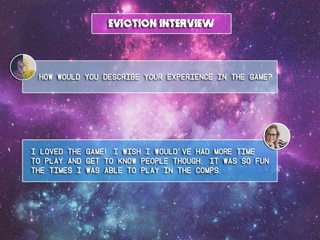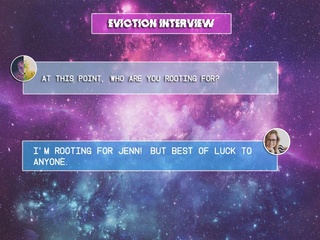 Admin




Posts

: 109


Join date

: 2017-05-28




---
Permissions in this forum:
You
cannot
reply to topics in this forum