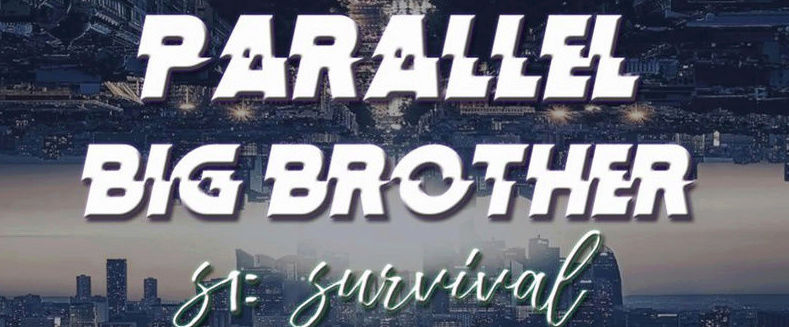 Episode #5 - If The Shoe Fits
In this parallel game of Big Brother, 22 strangers were locked up and propelled into a fantasy world like no other. While trying to survive the elements of this house and the game played within its walls, the 22 players will have to compete in grueling challenges, find trust and know when to betray. It's a ride you don't want to miss.Tonight on Parallel Big Brother, another big player had left the Parallel house, but there was still a lot of game and the stress was at an all time high. Who would be able to keep themselves in check long enough to win the next Head of Household title?
Jala walks in the Diary Room

I am in an alliance called the savage 7 when in reality there is nothing savage about any of these people besides me and Millie bc they dont call anyone out and they have ZERO TURN UP. And I will make damn sure I drag and tag every single one of these idiots if I ever get put up over fucking MIA people like Taylor.
I honestly only trust Millie, Syd is MIA and sketch 90% of the time, everyone else is sketch, and I wanted to work with Luke but hes gone bc his dumb self was sketch too. Over it. I am glad Caleb and Luke both left, I felt they were the only two that could really threaten my game
Victoria wanted to start something concrete for herself. She went to Sara first.
Victoria:
"so I know we haven't had a chance to talk yet but I'm trying to see who I can work with in this game"
Sara:
"Yeah I get it. Honestly, I've been playing a pretty quiet game so far. I haven't talked to a lot of people."
Victoria:
"Yeah me too but I'm happy you started that girl alliance now!"
Sara:
"Yeah! I think we'll be good!"
Damola had the same idea and sets her sights on Johnny.
Damola:
"Hey johnny. I'm a free agent right now with no one. I was wondering if you would like to be in an alliance?"
Johnny:
"Sure who else is in?"
Damola
"No one I'm all alone"
Johnny:
"Who were you with before?"
Damola:
"I was talking to Luke and Caleb. But Caleb had deals with the whole house so....."
Johnny:
"Yea he tried with me and then he took out cerina. I was with cerina and Andrew"
Damola:
"Yh I was so shocked to see her go. Wasn't Andrew exposed too"
Johnny:
"Yep. So I'm just waiting for something to happen and see where I belong"
Damola:
"Yeah me too. I'm not sure what's happening or who's in which alliance at this stage"
Another round over, it was now time for the second Head of Household challenge of the season.
Damola:
"Good luck guys"
Millie:
"Good luck everyone!"
Jenn and Andrew were walking towards the challenge area together.
Andrew:
"Do you think now would be the time to win if we can?"
Jenn:
"I feel like it wouldn't hurt for us to win if we do. What do you think?"
Andrew:
"I don't think so either, but I have no idea who I would put up. Millie is the only person I'm super concerned about about the moment because I think she has a lot of people in her back pocket, but if I put her up, then she's almost guaranteed to stay"
Jenn:
"If I won I would have to put up someone I haven't talked to. I don't think I could put Millie up right now even though I want to. Is anyone else concerned about Millie? I'm afraid to ask anyone in my group because they're all probably close to her. I think she's close to jala. So if you put those up the other group would have to decide who to keep. It's hard."
Andrew:
"Yeah I think putting up two random might be for the best, that might show the people I talk to that I trust them. No one has told me they are concerned about Millie, but I know jala, Jo, Sara, me, you, bill, Syd, Johnny, and maybe Victoria have talked to Millie. It is really hard"
Jenn:
"I think that's the safest bet if you win HOH. We can work on exposing Millie later lol which is easy since she was in the old 7, is in the new 7 and is with your group. Kathy is also in our group but idk if they really talk to one another."
Andrew:
"Yeah, me too. I would love the safety of HOH lol and plus you wouldn't touch the block obviously. I might actually try to win."
Jenn:
"Lol of course. You wouldn't touch the block if I win HOH either! It definitely wouldn't hurt."
Andrew:
"Mhm, sure. You're just trying to make me feel comfortable enough to throw the HOH so that you can win and BACKDOOR ME. I'm gonna win and nominate YOU!!!!!!!





(idk why, but I just felt the need)"
Jenn:
"OMG YOU FIGURED ME OUT *winks*"
Andrew:
"I just told Bill that I'm going to try and start something with Iman to see if it makes it into the group or not. (I'm not actually going to message him lol)"
Jenn:
"He will report it 100%. I'll let you know when he does though."
Trey walks in the Diary Room

So right now I feel like I'm in an okay position. I'm not deemed to threat worthy in this game and I believe I'm good with Damola, the Diaper 2.0 & Victoria/Bianka alliances. However, looks can always be deceiving so I don't know how much safety I'm actually granted at the moment.
Bianka and her new crew (Trey and Victoria).
Bianka:
"Good luck for the HoH guys!!"
Trey:
"good luck

"
Victoria:
"Good luck guys"
Bianka:
"Any idea who to put up in case one of us wins hoh?"
Victoria:
"I feel like johnny might be a good person to put up...what about you?"
Trey:
"do you think we should target the people cerina called out?"
Bianka:
"Maybe. I was also told that she was in an alliance with Millie."
Trey:
"Hmmm so Millie and someone else?"
Bianka:
"We can do Millie and Johnny"
Trey:
"Sounds like a plan"
Victoria:
"Ok that's cool with me."
After a very short time, we had a winner. The new Head of Household was Bianka!
Bill:
"Congrats Bianka"
Trey:
"congrats Bianka!!"
Jenn:
"Congrats bianka!"
Andrew:
"Congratulations!"
Johnny:
"Congratulations Bianka!"
Jala:
"Congrats! that was tough"
Bianka:
"Thanks everyone!! Had to get my heart back to a normal rate lol"
Bianka walks in the Diary Room

Damn that's was stressful! I didn't really feel like I needed to win this one but better safe than sorry. Plus I'm a movie lover so that could've been the only comp I would be able to win lol
Bianka went up to her new HOH room and was followed by Trey and Victoria.
Trey:
"YASSSSS"
Victoria:
"Yeaaaah congrats girl"
Bianka:
"thanks...I have no idea what to say for noms speech. And people are suddenly adding me on dms lol"
Trey:
"lmao"
Victoria:
"Of course lol"
Bianka:
"I went back to see who were the people cerina called out : Andrew, jenn and Sara. So what are your opinions?"
Trey:
"Hmmm"
Victoria:
"I still think Millie and Johnny is good but maybe you can take one of them off and replace"
Trey:
"Yeah, backdoor?"
Bianka:
"Good idea. I might some help in this POV lol let me know if u know the answers"
Victoria:
"Ok I'll try"
Damola and Johnny crossed paths again and continued to talk a little bit.
Damola:
"Let's just see who bianka nominates and we'll go from there I guess"
Johnny:
"Yea I'm nervous. These comps are kick ass though"
Damola:
"I was so close in this comp lol. I sent in Jurassic park instead of Jurassic world "
Johnny:
"I did the same thing and I didn't get Logan. Did you get the rest of them?"
Damola:
"Yeah I did. Took me some time to figure out scarface though. I kept thinking that was The Godfather but then I remembered"
Johnny:
"That mashup one was hard. I only could do 3. Something tells me these comps isn't going to get easier"
Damola:
"Yeah. But it will make the game fun though"
After some time, Bianka decided to nominate Johnny and Millie.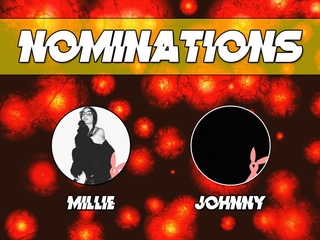 Kathy:
"Best of luck!"
Sara:
"Good luck everyone"
The veto players were picked. Bianka, Johnny, Millie, Bill, Jenn and Jo.
Jala walks in the Diary Room

Bianka's nominations show how dumb shit is instead of actually taking out someone who is good for her game she is just being a sheep and putting up Millie cause its the easy way out.
Later on Jenn came up to the HOH room while Bianka was alone listening to some music.
Jenn:
"Hey. You ready for POV?"
Bianka:
"So so lo. You?"
Jenn:
"As ready as I'm gonna be. Haha I'm assuming you'll want to win to keep the noms the same"
Bianka:
"I want to avoid making any other decisions lol. If I have to replace someone I really don't know what to do"
Jenn:
"For sure lol I think you made solid decisions. I found out that a lot of the players played a game together right before this one. So it makes sense that'd they be together...Go with your gut. I feel like so many people are playing every side that it's hard to keep track"
Bianka:
"I knoww. thanks for the advice"
Jenn:
"No problem girl

good luck in pov!

"
Bianka:
"You too

"
Sara and Andrew met up in the pantry for a short moment to dance around at the fact they did not get nominated.
Andrew:
"So johnny and Millie are nominated. I'm glad we're safe!"
Sara:
"Omg but Millie!! We should keep Millie"
Andrew:
"I know! We have to keep her safe!"
Sara:
"Yeah if we play in the veto comp we gun to win!"
Andrew:
"Absolutely! And if we aren't picked, then we try and help her if we can"
Sara:
"Absolutely worst case scenario. Jenn and Bill are playing. I hope either Jo or Millie can win."
Andrew:
"Yeah I don't think they would use it, hopefully they can!"
Sara:
"Jenn or Bill might use it on Johnny. There's always that possibility. I'm so nervous rn. I can barely breathe."
Andrew:
"Just try and stay calm, we won't know who wins until late tonight."
Meanwhile Bianka was presented with Parallel Big Brother's Pandora's Box and she decided to open it.
Bianka:
"I choose to open it"
Bianka, you open the door and notice an envelope in the middle of an empty room. You open the envelope and read the following.

"Houseguest, Pandora's Box is always a double edged sword, this time, you fall on the right side of the sword because it holds a power for you. The Double Vote. This power is good up until and including the Final 10 vote. You can use it only once and you have to let us know as you cast your vote that you want to double it for that eviction. We will not reveal the power that you received. It is up to you if you want to share the information. Sadly, this means the House is about to feel the wrath of these actions after the eviction ceremony. Stay tuned.
Millie and Andrew were in the kitchen cooking slop together.
Millie:
"I hope I stay if noms some how stay the same. But hopefully I win Veto

"
Andrew:
"I'll do everything I can to save you if it comes to that!"
Millie:
"Please do! I'll do the same for you too"
Andrew:
"Thank you

"
Millie:
"You're welcome

"
Sara walks in the Diary Room

My girl Millie is on the block and that's SUCH a bummer. But I'm feeling pretty confident that my band of peeps will help keep her safe. I hope either Jo or Millie can win this POV if not, there's a very good chance that Millie might go home. And I don't want that!
Bill walks in the Diary Room

Ugh! Worst case scenario! Not only lose an alliance member but possibly lose the trust of other alliance members cuz of our difference in opinion on the vote. Time to regroup.
It was starting to be routine for Andrew and Jenn to check in with each other before a challenge.
Andrew:
"FUCK YES MILLIE IS NOMINATED"
Jenn:
"Millie called it earlier!!! Omg hahaha"
Andrew:
"Seriously??? Did she get both noms or just her?"
Jenn:
"She was like I wouldn't be surprised if Johnny and I were nominated because people thought Millie and cerina were close. I want to message bianka and be like girl you rock hahaha. Also, Bill has told the info"
Andrew:
"Ohhhh okay. That's kind of funny. Sara said if me and her get picked then we need to gun for the win and save Millie and I'm like..... no. Lol. I do too haha. Sara is going to message her and try to for, some girl thing so that we have that connection. Good to know. I told him I would message Iman and then add him to mine and bills chat"
Jenn:
"Lol not happening. Millie is obviously working with a lot of people that's why she's nominated. I don't trust Sara at all lol maybe I'll message her and see where she's at at some point,"
Millie walks in the Diary Room

Andrew and the girls I'm in an alliance with are saying if they win veto they'll save me. But the only person I can really count on is me!! Jala also said she'll save me so I have to chances
It was now time for the second Power of Veto challenge of the season.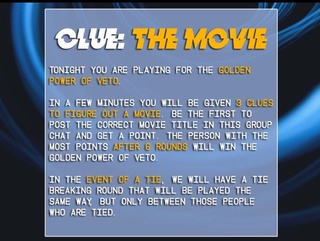 Round 1: Bianka scoredRound 2: Bianka scoredRound 3: Jenn scoredRound 4: Millie scored
Sara walks in the Diary Room

Bianka scores two points and then Jenn scores a point. I'm so nervous! AND THEN MILLIE SCORES A POINT!!! You go Millie! This is still anyone's game. IM SITTING HERE KNOWING ALL THE ANSWERS AAAAAAAAAAAGGGGGHHHH Come on Millie you can do this!
Round 5: Bianka scored
Host:
"At this point there's only one left so there's no way to catch up to Bianka. Congratulations Bianka, you have won the Golden Power of Veto. Please post your ceremony in the DR as soon as possible (no more than 30 minutes)"
Jo:
"Congrats Bianka!"
Sara:
"Good game everyone!"
Millie:
"Congrats Bianka!"
Jenn:
"Congrats Bianka!"
Trey:
"congrats Bianca!"
Bill:
"Great job Bianka. Congrats"
Bianka:
"Thank you everyone! Good game"
Sara walks in the Diary Room

I'm dissatisfied with who won the POV. But that's okay I just have to make sure that Millie doesn't leave.
Now that Bianka officially held all the power, Millie went up to her room to try and sway her to use the veto.
Millie:
"Hey, I was wondering if there is any chance you would use Veto on me? I'm 100% alone in this game and I'm not quiet sure why I'm being targeted. I had 5 votes against me so those 5 will always be targeting me too. I suck at comps lol and I'll always be a target before you or anyone you maybe working with. If you use it on me if I'm HoH I won't put you up nor would I put you up as a replacement. I'll prove that to you 100% you have my word. There's bigger targets in this game so why not take them out now when they're with others. I'll also vote the way you'd like me to"
Bianka:
"I unfortunately already sent my decision. Had I got your message a few minutes before maybe but for what it's worth i don't think you're leaving"
Bianka signals Trey and Victoria up to her room so she can tell them about her conversation with Millie.
Victoria:
"Oh dang congrats Bianca"
Bianka:
"Millie asked me to use the veto on her right after I already sent in my decision. Some people said she was working with everyone in the house but she said she's 100% alone"
Trey:
"EXPOSE HER"
Bianka:
"

I don't want play messy just yet lol"
Trey:
"lmao as soon as she's evicted we finna hit up with them receipts."
Victoria:
"lmao"
After some consideration, Bianka decided to keep her nominations the same and not use the Power of Veto.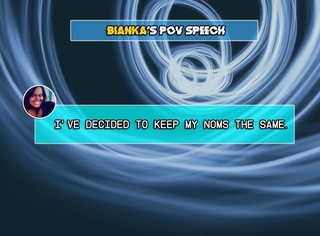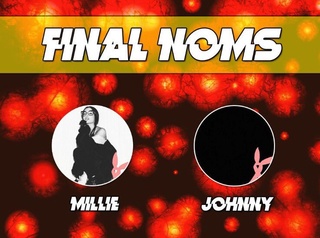 Jala:
"I thought the ceremony wasn't for 30mins? That was a quick 30mins"
Victoria:
"I guess if the pov winner ark ready decides what they want to do lol"
Jala walks in the Diary Room

Bianka is an idiot has the opportunity to take out a big player and insteads leaves noms the same, I wanna drag her so bad and now my only ally is still on the block. I am trying to work these idiots into keeping Millie, if they fall for it I am a miracle worker.
Andrew noticing that Bianka is a challenge beast decided to go talk to her and solidify some bonds.
Andrew:
"Hey Bianka, congrats on winning HOH and POV! I know we haven't talked at all so far, but I honestly have no idea who to vote out and I was wondering if you had someone specific you wanted gone or if you were just leaving it to us. Thanks!"
Bianka:
"I think I'm just going to leave it to the house

"
Andrew:
"Understandable. Thanks. Hope we can maybe talk in the future."
Bianka:
"Of course!"
After his talk with the HOH, Andrew decided to head to the boys room and talk with Bill.
Bill:
"I knew most of those movies but can't type fast enough"
Andrew:
"Bianka was extremely fast. I only knew a few of them."
Bill:
"Well it would've been nice to win but tbh I really didn't want the pressure of using it or not. Know what I mean? At least this way my hands are clean"
Andrew:
"I know exactly what you mean. Especially when you don't really have many allies anyway, it's just easier to step back and let someone else win."
Bill:
"Have you voted yet?"
Andrew:
"Nope not yet. You?"
Bill:
"No. Not sure who I'd rather see go"
Andrew:
"Yeah me either."
Bill:
"I'm leaning towards keeping Johnny but I haven't made up my mind quite yet"
Andrew:
"Any reason why? Or just a gut feeling lol"
Bill:
"Mostly a gut feeling and I remember Millie having those five votes against her at the beginning. Have a feeling the majority will be voting that way"
Andrew:
"Oh that's true. I'll think on it and let you know if I get messaged or have some sort of epiphany."
Bill:
"Sounds good"
Andrew had to go grab something in the kitchen, where he ended up running into Jo.
Jo:
"know who you're voting out?"
Andrew:
"I honestly have no clue. Like I said a while back, I briefly talked with Millie but I've never spoken to Johnny. It's really up in the air. How about you?"
Jo:
"my logic as well. never spoken to him."
Andrew:
"So does that mean we vote him out?

Maybe I should message bianka and see what she wants lol"
Jo:
"ya haha let's do that!"
Jenn and Jala decide to go wake Kathy to talk about the vote.
Jala:
"Kathy are you still awake? Well incase you are sleep and will not see this til the morning, basically Jenn and Me made this GC to discuss the vote. Okay so me and Jenn discussed that our best option is to keep Millie. For a couple of reasons"
Kathy:
"Hey Jenn and Jala, I am headed down stairs to read.  My brain is on overload.  I promise before I go to bed I am will come back and see what the discussion has been and weigh in with my opinion.  Okay?  I appreciate you including me in the conversation. Really really appreciate it."
Jala:
"Okay I will lay it out so you can read it in the morning"
Kathy:
"Thanks Jala.  Long long day.  I will check in later though okay.  And you have my promise what is said here stays here.  Hugs"
Jala:
"Okay so thinking about specifically your game my game and Jenn's game we decided keeping Millie appears to be our best option because she is clearly a big target to keep ahead of us and we need that in this game to keep us safe where as Johnny will always be someone who is not targeted over us, Johnny will always have loyalty to Bill bc of being close before playing this game and playing other games together more than any of us while Millie's only person she had was Cerina and she is gone so she is loyal to the group of girls and if we let her know we are the reason she stayed she will be completely loyal to us, I just feel now is not the time to take out a huge target like Millie when we will get that opportunity so many times bc of how highly the others want her out while this is the only opportunity to take out Johnny who will not be highly tageted in this game and can skate by. So we both feel Millie is best if we are thinking about our games moving forward, of course give me your feelings on this and we will respect your decision."
Kathy:
"Jenn and Jala - I don't know either of them.  No one has asked for my vote.  I don't have any allegiances outside of this group.  One person did ask me what I was thinking vote wise and I honestly replied I had no idea.  I was so close to messaging Bianka tonight to ask her to take one of the two nominees off and put me up and vote me out.  I  think I am in over my head.  But then Bianka quickly made her decision and it was too late.  I read through the group chat a few times and something keeps twigging my brain but I just can't wrap my brain around it.  I don't mean to be non-committal but at present I have no reason to vote either or them out.  Now I need to get some sleep - busy day in about 6 hours.  If you have any other comments Jala or Jenn please feel free to share.  I will read the posts before I vote in the morning."
Jala:
"Kathy I totally understand it's a hard decision! You don't have to do Millie just cause we both are! If you feel johnny is the better option for you then do johnny, I was just saying from the looks of it me you and Jenn all don't have a #1 in the game, Millie did but she left (it was cerina) and johnny still does with Bill, and that no one is going to take out johnny but Millie will always be ahead of us as a target and that'd be especially good for you Bc you've been up once already. Let me know your thoughts, either way the votes go we all in the savage seven need to stick together moving forward."
Kathy:
"Well I did vote Johnny out and I did tell Bill that I did.  TTYL later. Sorry that may have sounded abrupt but it wasn't meant to.  My husband is hovering over me waiting to go to the darn Home Depot of all places.  I told Bill that I voted to evict Johnny because he did not reach out to me at all.  Not two words.  Millie did not ask for my vote but at least she asked where my head was at.  Now - for the thrill of a lifetime - Home Depot here I come.  Talk to you all soon.  Take care."
Jala:
"It's okay! You definitely don't have to apologize. Thanks for letting us know what you decided. talk soon!"
Jenn:
"Talk soon Kathy!"
Millie walks in the Diary Room

Bianka kept the noms the same and didnt even read my plead wtfs. If I stay I'm coming after everyone!
Jenn takes this time to check in with Johnny and see how he's feeling.
Jenn:
"Do you have any votes on your side?"
Johnny:
"Not that I know of"
Jenn:
"I'm working, but Millie is with a lot of people."
Johnny:
"It's ok, it's hard when 2 alliance members are on the block. Whatever happens don't let this ruin the alliance."
Millie walks in the Diary Room

Jala working Jenn and Kathy to vote to keep me ahhh Quennie. Syd can't relate. Bengal is voting to keep Johnny He's only voting to keep him because he voted him out in the other game
Once the votes came in, Johnny was evicted by a vote of 10-2.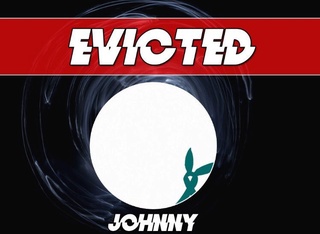 Jenn:
"Bye Johnny!"
Sara:
"Bye Johnnycake"
Jala:
"Bye Johnny <3"
Andrew:
"See ya later, Johnny!"
The houseguests were then informed that one of the pre jurors evicted would come back into the house after a battle back challenge. This was the consequence of Pandora's Box getting opened.
Bianka:
"Well damn.."
Jala:
"how fun"
Johnny:
"I loved playing! I'm a bit busy at the moment I should be done at about 11:30 Ct"
Kathy:
"Good luck everyone!"
Johnny:
"Thank You everyone it was fun!"
The power kept on shifting which left things up in the air. With a pre juror coming back in, what would this do to the dynamics of the house? Find out next time on on Parallel Biggggggg Brotherrrrrrr
Johnny's Aftershow Interview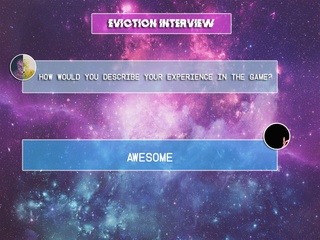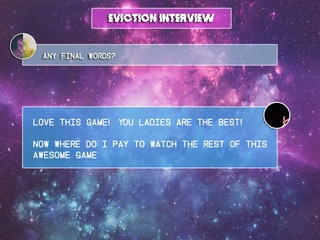 Admin




Posts

: 109


Join date

: 2017-05-28




---
Permissions in this forum:
You
cannot
reply to topics in this forum